Turpan Hotels
4 Star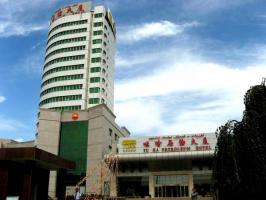 Tu Ha Petroleum Hotel Urumqi is a 4-star hotel opened in 1997, innovated in 2006, is a comprehensive international hotel located in the bustling city center of Turpan. The hotel has 13 storeys, 203 tastefully understated rooms. The hotel is an easy walking distance to Urumqi Railway Station, Urumqi International Convention and Exhibition Center. This Turpan hotel has various rooms and suites equipped with internet access, safes, air-conditioners and mini bars. Tu Ha Petroleum Hotel Urumqi accepts payment by cash and card. International card settlement makes convenience for guests all over the globe. For recreation and relaxation, fitness center, bowling alley, swimming pool, table tennis room, night club, chess and card room, sauna and massage are available. Other facilities in the hotel include business center, meeting room, wireless internet area, parking lot and store, etc. For dining, the restaurants serve all kinds of Chinese cuisines and western foods as well as local dishes. Chinese and western restaurants are available in the hotel providing guests with Sichuan, Cantonese cuisines. Tu Ha Petroleum Hotel Urumqi staff is superbly trained to ensure all guests' requests receive the utmost care and attention.
3 Star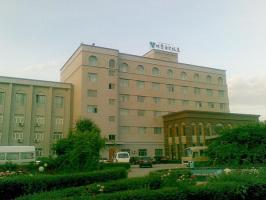 The Grand Turpan Hotel is a luxurious 3-star hotel that has become the Turpan Grand Hotel limited Company. The company shapes the hotel from all directions on the basis of the spirit, such as innovation, major, effective, excellent. It contains strong Silk Road culture as its characteristic, marketing all directions as its key project. At the same time, it also adjusts the scale, the project, standard, and running mode of the hotel to be a multi-levels and multi-functions three star modern hotel.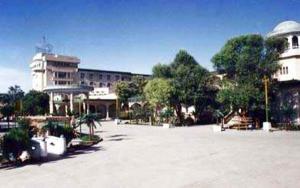 The Turpan Oasis Hotel is based on a traditional Islamic design, incorporating modern amenities to provide the comfort of home. The hotel is located on Youth Road, known as Turpan City's "Grape Street" and is surrounded by lush greenery. The restaurant is decorated in traditional style, where guests can taste the finest in Cantonese and wild northwest delicacies. The cafe offers delicious food, in Islamic -themed surroundings. Meeting rooms accommodating up to 250 delegates are also available onsite.