Guilin Hotels
5 Star
4 Star
3 Star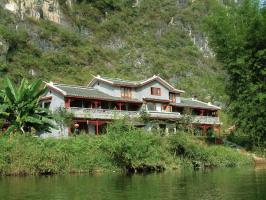 Situated at the foot of magnificent limestone karst peaks and on the grassy banks of the Dragon River, the Yangshuo Mountain Retreat is a countryside Yangshuo hotel promoting sustainable tourism in china through its business practices. It offers an authentic China travel experience and is a perfect getaway from city life. It is about 100km from the airport and about 60km from the Railway Station and Guilin City. Yangshuo Mountain Retreat is unique among Yangshuo hotels in our commitment to sustainable tourism in Yangshuo. Yangshuo Mountain Retreat consulted with Feng Shui experts in designing retreat, giving guestrooms a harmonious but simple feeling. With locally grown handmade bamboo furniture to support the local economy. It reflects the simplicity of local life and tranquillity of the Yangshuo landscape. The Yangshuo Mountain Retreat's menu is filled with wonderful local specialties and Yangshuo county's distinct cuisine and cooking flavors make it a culinary delight for all lovers of food. The kitchen team of Yangshuo Mountain Retreat carefully buys fresh ingredients every day, which come from nearby villages. We have several recommendations and have included some of our famous recipes, just click on either the link in the left navigation bar or on the title of the dish and bring the taste of Yangshuo into your kitchen.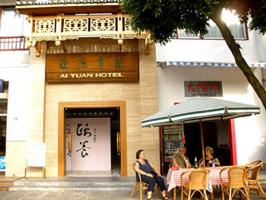 The Yangshuo Aiyuan Hotel is opened in 2002 and refurbished in 2008. It is located at the foot of the Green Lotus Hill in the prosperous center of town, facing the West Street Center Garden Square. It is 65km away from the Guilin Railway Station and 90km away from the Guilin International Airport. The Yangshuo Aiyuan Hotel offers a total of 72 rooms, suites of different styles and more than 16 hill-view rooms, each room is attentively maintained and carefully cleaned. The hotel has Western and Chinese restaurants, the Chinese Restaurant can hold over 300 people and offers various favorites from Cantonese, Hunan, and Yangshuo Cuisines. As for recreation, the guests can enjoy time in Karaoke and Dancing Hall in the Yangshuo Aiyuan Hotel.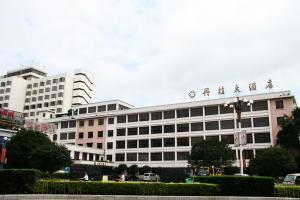 The Guilin Osmanthus Hotel was opened in 1987 and refurbished in 2002, it is located right in the center of the city and near the Li River and the Peach Blossom River bank. The biggest shopping mall in Guilin City and the Elephant Trunk Hill are also only minutes' walk away. The Guilin Osmanthus Hotel boasts a total of 212 exquisitely decorated and well appointed guestrooms. All rooms and suites are comfortably furnished and well-equipped, different restaurants will let the guests tast delicious and tasting food. Other facilities in the Guilin Osmanthus Hotelinclude fully equipped business center, beauty salon and commercial department and karaoke and so on.