Suzhou Hotels
5 Star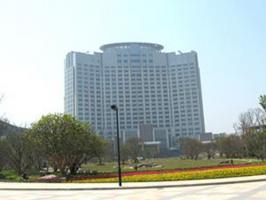 Opened in 2008, the Kempinski Hotel Suzhou is a European style hotel located on the bank of Jinji Lake. It is 8km away from the city center and 12km away from the Suzhou Railway Station. The Kempinski Hotel Suzhou offers a total of 458 guest rooms of various types, including handicapped room. All rooms are provided with free broadband internet access and IDD/DDD phone and other service amenities. As for dining service, there are Chinese restaurant and western restaurant in the hotel and meal delivery service is available. There is also a German bear hause in the hotel. For recreation and relaxation, fitness center, swimming pool, chess and card room, tennis court, squash room and table tennis room are available. Other facilities in the hotel include business center, meeting room, parking lot, wireless internet area and ATM machine, etc. Apart from these, the Kempinski Hotel Suzhou also provides service such as foreign currency exchange service, ticket booking and postal service and so on.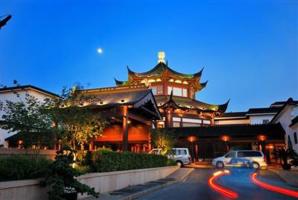 Stay in the midst of the thriving commercial district and historic attractions just an hour away from Shanghai.Surround yourself with luxury at our hotel in the midst of Old Suzhou, close to many historic attractions and picturesque gardens. Explore the unique culture and heritage of a modern city with historic charm from our five star Suzhou hotel.Experience a modern city with historic charm. Have the best of both worlds – a dynamic city in the midst of China's exquisite Ming Dynasty Gardens, picturesque lakes and famous temples.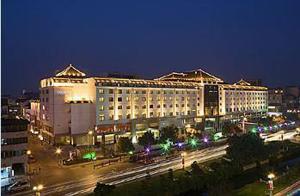 Opened in 2006, the Sofitel Suzhou located downtown in the heart of the old city.It is just half an hour from Shanghai via fast train. Two key landmarks, Xuan Miao Temple and Guanqian Street, are located within easy walking distance. Boasting traditional Chinese design and incorporating the upmarket new Xuan Miao Shopping Plaza Downtown, Sofitel Suzhou features 314 beautiful rooms set around two indoor atriums. Broadband Internet and flatscreen TVs are available in all rooms. Offers 31 suites including the Presidential Suite and two Sofitel Club floors featuring a wide range of exclusive facilities and services suited to the every need of business travellers. Sofitel Suzhou is designed in traditional Chinese style located in central Suzhou. Poised to set greater standards in luxury, convenience and service, the Sofitel is the discerning traveller's best choice for a "home away from home" in Suzhou.
4 Star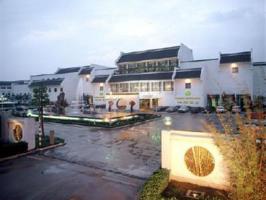 It is located in the southeast of ancient Suzhou. Surrounded by bamboo garden and built with white walls and black roof-tile, it features a combination of elegance from the classical garden architecture and comfort and luxury of the modern hotel. It takes only 5 to 10 minutes to walk to the famous Surging Waves Pavilion and the Master of Nets Garden. It possesses Standard Rooms, Business Rooms and Executive Rooms. All the rooms are cozy and equipped with independently-controlled air conditioner system, color TV, radio, mini-bar, satellite TV and closed-circuit system, etc. Emerald Place (Chinese Restaurant) provides the authentic Suzhou cuisine from the top chefs with the best raw materials; The Seasons (Chinese Restaurant), also a multi-function hall, serves Guangdong cuisine, dim sum and other Cates; The Plum's Café supplies various kinds of western food, drinks and refreshment. The guests could enjoy the Japanese cuisine at Lanshanju. Besides, business center and fitness center are available in Bamboo Grove Hotel.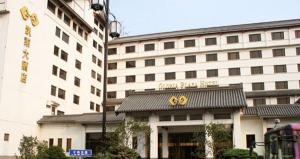 The Gloria Plaza Hotel Suzhou (Suzhou Kailai Jiudian) is a superior first class hotel designed in the traditional Chinese style. The hotel is a mere ten minutes drive from the Singapore Industrial Park and 20 minutes from the Suzhou High-tech Development Area. The Suzhou Express restaurant in the hotel is decorated in an alluring 1920's style. The restaurant serves good local dishes and seafood and the hotel lounge is a great venue for drinks. Those engaging in serious business can take advantage of a great number of business services.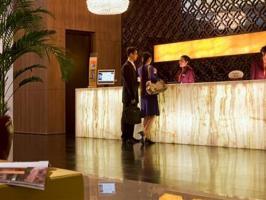 Situated in the Suzhou Industrial Park, the Mercure Suzhou Park Hotel & Suites (Suzhou Shanglu Meiju Jiudian) is convenient to Jinji Lake and Yangcheng Lake, and is about a six-minute drive the Huning Expressway. Rooms in this Suzhou hotel come complete with plasma TVs, safes and broadband internet access. Internet access is available in all of the hotel's public areas. This hotel also offers shuttle bus services to and from the main business and shopping centers. In the Global Cafe, guests can savor delicacies hailing from all over the world, a private room large enough for 16 is right next door. The lobby bar offers coffee, tea, cocktails, fresh bread and cakes. For guests looking to enjoy some nightlife entertainment, there is an American style bar, with live performances and a respectable selection of beers, wines and cocktails. Billiards and darts games are also available in the bar.