Xian Hotels
5 Star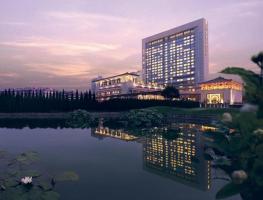 The Shangri - La Hotel Xian stands within the Gaoxin Hi-tech development zone of Xian, very close to leading multi-national business, shopping and entertainment districts and very easy access to the tourists sites in Xian, including the Terracotta Warriors Museum and Xian's breathtaking city walls. It offers four restaurants with kinds of dishes and houses the largest and the most sophisticated meeting or banquet facilities in Xian. Other luxurious facilities include SPA treatment and a fully equipped health club. Shangri - La Hotel Xian is a hotel Blending modern luxury and legendary hospitality and would be an ideal place for business and leisure travelers. An unforgettable experience stay at this hotel with high level service enhances every enjoyment in Xian.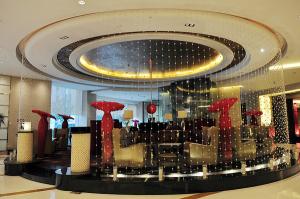 The majestic Sofitel Xian on Renmin Square, a superb hotel built to China's newly launched five star platinum hotel standards, is the most luxurious and comfortable hotel in Xian. Located in Renmin Square, Sofitel Xian provides all the latest amenities and services that make the most comfortable stay for every traveler. A full range of entertainment options, comprehensive meeting and banquet facilities, exercise and spa venue for relaxation and rejuvenation and warm and efficient service from well-trained staff. The Sofitel Xian on Renmin Square is selected by M Media Group as "Best Business Hotel in China 2006" and selected by Forbes magazine as one of the 10 Best New Business Hotels in 2005".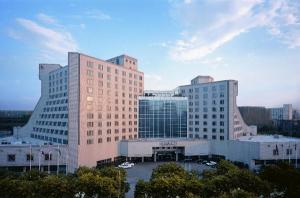 The brand Hyatt speaks for itself and features the true mark of eminence that is characteristic of an establishment of such status. Hyatt Regency Hotel, Xian is in a remarkable hotel within Xian's ancient city walls and is close to the commercial, shopping and entertainment areas and easily access to the popular historical and cultural sites, such as Terracotta Warriors, Banpo museum, Uqing hot springs and Shaanxi provincial museum. The Hyatt Regency offers delicious international cuisine, local dishes and some other Chinese food. Alternative meeting rooms are available, from small meeting rooms to seminar rooms. A full secretarial service can also be provided for guest use. The hotel recreation facilities are fully equipped with the latest gymnasium, aerobics, and massage, whirlpool, sauna and cold plunge pool facilities. Hyatt Regency Xian is an ideal place for a comfortable stay.
4 Star
3 Star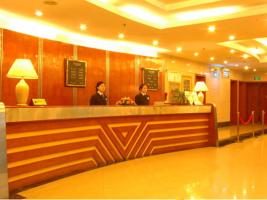 City Hotel, a modern joint venture 3-star hotel, is located in the very heart of the ancient capital Xi'an and is in the prime site of the commercial centre. It is only a stone's throw away from the famous Bell Tower. The elegant and magnificent Ming palace Chinese Restaurant and the La Pinata Western Restaurant on the second floor not only serve delicious flavors of many varieties but also be able to hold all kinds of business meetings. It also provides Rooms, Restaurant, Conference, Ma-jiang room, Internet checking room, Business Center, Shop Bar and Beauty Salon. City hotel is an ideal place for you to talk business, hold gathering parties and appreciate the beautiful city view.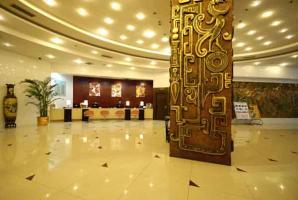 HNA Hotel Downtown Xi'an is a 3 star standard hotel managed by HNA Group international enterprise, with an integrative function of guest rooms, catering and conference. The hotel is an imposing sky-scraper enjoying very convenient location. Covering a total construction area of some 30,000 square meters, it is at the southeast of Xin Cheng Square, the heart of Xi'an City, just is a stone's throw away from provincial government building and main streets. It offers a full range of services and facilities including a fully equipped business center and secretarial services. The magnificently decorated conference center, with rooms full of equipment and different style, can meet a variety of guest needs. It also has one Chinese Restaurant and one Western restaurant. The spacious fitness center equipped complete with a gym, indoor swimming pool, saunas/steam bath, massage room, tennis court, a 12-lane bowling alley, and pool table. The lobby Bar, with its graceful environment, provides an ideal place to relax, offering a wide selection of wines, cocktails, coffee and tea.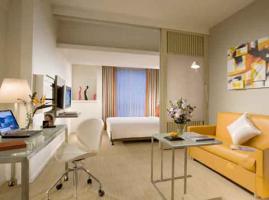 Citadines Apart Hotel Xian Central is a 3 star hotel opened in 2007, a great choice for staying in the ancient city Xian as a private serviced residence with the excellent combination of the free atmosphere, privacy of the apartments and the convenience location of the hotel. It is ideal residence for business travel and vacation, located in the heart of city and surrounded by the business district, shopping, restaurants and entertainment. It provides a private urban retreat equipped with business and recreational facilities and services. Live in a stylish modern city apartment and have everything from ancient ruins to culinary delights and modern business amenities just moments away.